English Learners with Disabilities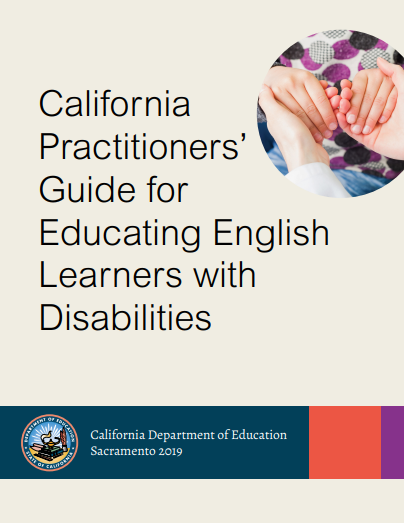 To properly meet the complex needs of students identified as English learners with disabilities, education professionals from various disciplines must effectively collaborate and involve families in the individual education plan (IEP) process. This requires that general education teachers, special educators, and English learner specialists consult and collaborate to design and implement effective IEPs and services for English learners with disabilities to ensure optimal educational outcomes for this diverse group of learners. This begins with proper assessment.
Assessments must be "provided and administered in the language and form most likely to provide accurate information on what the student knows and can do academically, developmentally, and functionally, unless it is not feasible to provide or administer." Education Code §56320(b)(1) Determining how best to assess an English learner to come to valid and reliable assessment results is not an easy task. Language acquisition must be taken into account when making decisions about how best to assess an English learner to avoid language barriers or cultural bias.
Multidisciplinary team members assessing English learners determine, through multiple measures, which language used during the assessment will produce the most reliable result. They review and evaluate the English interpersonal communication skills (or document the current results of the English language proficiency statewide assessment such as ELPAC) and include data from formal and informal assessments that measure the literacy-related aspects of language to determine the best language for assessment. For example, team members informally assess the language development of English learners by analyzing the student's ability to understand teacher-talk or reading comprehension through re-tell assessments. Unless these skills are analyzed and measured, teachers may attribute low achievement to learning disabilities when they may, in fact, be related to a lack of academic language proficiency. And, if the language difference is ruled out and a student is deemed to be a student with a disability, then the development of an appropriate individual educational plan (IEP) that addresses language development is indicated.
The California Practitioners' Guide for Educating English Learners with Disabilities, required by AB 2875 and published in 2019, contains the most comprehensive guidance on the various aspects involved including the identification of English learners; educating English Learners with Disabilities within a Multi-Tiered System of Supports (MTSS) and the use of pre-referral interventions, pre-referral, referral, assessment, and individualized education program processes; educational programs and instructional
strategies; proposing exit from special education services; and reclassification from English learner status. Click on the cover page above to view.
Links
California Department of Education - English Learners webpage
California Practitioners' Guide for Educating English Learners with Disabilities, 2019
Imperial County SELPA Content Lead - Video Training Modules on English Learners with Disabilities, by Imperial County SELPA EL-SWD Content Leads (Senior Director of Imperial County SELPA, Dr. Deborah Montoya pictured at right.)